Check Out These Hot Nigerian Traditional Dresses
With a culture so vast, Nigerian traditional wedding dress styles are always a marvel to observe.
Marriage is blissful and as such, whether white wedding or traditional, its celebration is always one to remember.
Nigerians love weddings and will do anything to have a great one. The Nigerian traditional wedding is a major celebration as it depicts the couples' traditions, backgrounds and cultures.
With over 250 ethnic groups, there's sure a lot to talk about Nigerian traditional weddings and their peculiar styles.
However, we'll only talk about four major ethnic groups and their ghen ghen wedding traditions:
1. Yoruba Traditional Wedding Dress Styles
When you hear 'Yoruba', you hear 'Owambe'. Saying the Yoruba's love weddings is an under-statement, they live for it.
Rather than have a shabby wedding, Yorubas' may wait till there's enough resources to have the marriage they desire.
For the traditional marriage, the bride wears a four piece outfit made of her preferred material and the famous handwoven Aso-Oke.
Everyone loves to look as beautiful as the Queen of Sheba once in a while, especially on their wedding day.
On this day, the bride's outfit– embellished with beads, stones or corals always speak luxury and nobility. The four piece outfit includes:
Iro- a wrapper often made of Aso-Oke
Buba- a blouse made from her preferred clothing material
Iborun- a shoulder sash from the same Aso Oke
Gele- a scarf
Smiles are part of your dressing, they say. This Yoruba bride proved it by serving her 'white, green and gold' outfit with her irresistible smile. Gorgeous!
On the other hand, the groom wears a three-piece Agbada with matching material and colour as the bride.
To complete the look, he adorns his heard with a beautifully made fila and other accessories.
Happiness is written all over his face. Of course! He's tying the knot with the Queen of his heart.
His purple and wine agbada makes him look like royalty. Well, he's the 'Oba' of his home.
Oh! Look how they complement each other. The groom's outfit is partly the bride's aso-oke. What speaks more unity than this?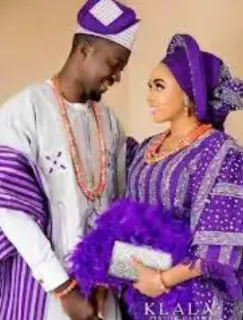 2. Igbo Traditional Wedding Dress Styles
Like every ethnic group, the Igbos' do not joke with marriage celebrations, they spend and celebrate to the fullest.
In Igboland, the traditional wedding– Igbankwu is deemed more important than the white wedding.
As preservers of traditions, every opportunity to display their tradition is never wasted.
Here's what the bride wears:
Skirt and Blouse adorned with jewelries.
Heavy traditional beads; neck beads, waist beads and anklets.
Headgear or Crown
Jewelries; gold, silver, ivory or beads.
Goodness! This Igbo bride didn't come to play but to slay. Her coral beads excellently complements her royal blue outfit. A Queen! We stan!!!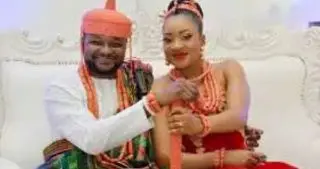 Igbo grooms wear beautiful colored trousers and shirts to match their bride's elegance.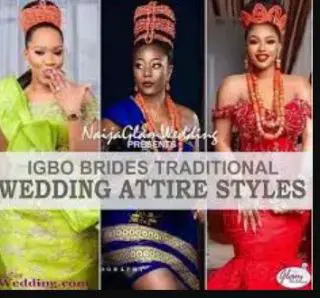 Though simple, his outfit can be spiced up with a costum walking stick and accessories.
Also, the groom wears a cap often laced with a feather or other accessories.
There's something about Igbo grooms and we all know it's the simple grandeur their outfit emits. Peep this groom, he's hundred shades of hotness.
3. Hausa Traditional Wedding Dress Styles
If you've attended a Hausa wedding , you'll agree that they are always a marvelous sight to behold.
The body art (lalli's), food, indigenous music and dance, and bride's modesty makes the Hausa wedding charming.
The brides usually go for bright colored dresses heavily adorned with jewelries.
Also, a bright angelic long veil or hijab is usually attached to their head tie to complete the look.
White, a colour that denotes light, beauty and purity. Truly, this bride is light.
She's beautiful and her dress reflects the 'angel' that she is. Absolutely stunning!
Since Hausa's love simplicity, the groom often wears a Babanriga or Jalamia.
Love is simple. The synergy between the gold and white outfits is enough to show you that they are a match made in heaven.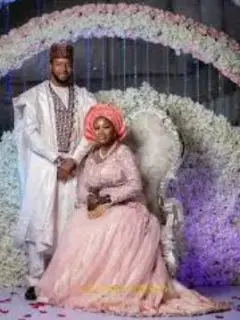 4. Edo Traditional Wedding Dress Styles
In the Southern part of Nigeria, Edo State is home to the Edo (Binis), Esan and Afemai (Owan/Etsako).
Their culture is rich and deep-rooted and as expected ,their weddings are no joke.
Coral beads are the signature element of every Edo wedding. It's the emblem of the couple's royalty.
The bride's hair is decorated with beads or a crown of beads (okuku).
Her legs, wrists, neck, and waist are also adorned with these traditional ornaments.
This coral bead cape gently sits on this bride's shoulder. Such a beauty.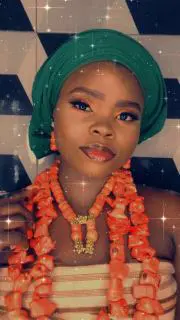 Grooms aren't left out in the beads affair. They wear a shirt and wrapper/skirt and finish it off with touches of coral beads.
What do you see? Definitely a king about to conquer the world with his queen.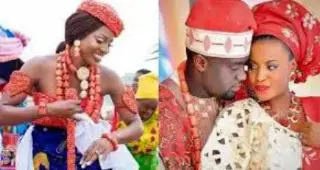 5. Delta traditional wedding dress very beautiful with the smiles on her face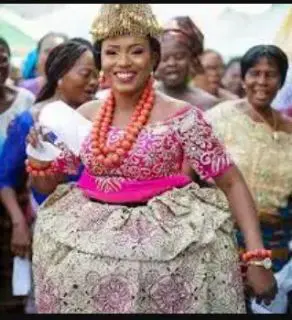 6. Rivers traditional wedding dress nice one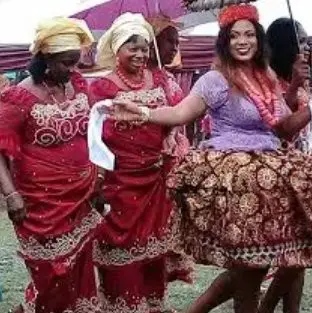 7.Niger Delta taditionalwedding dress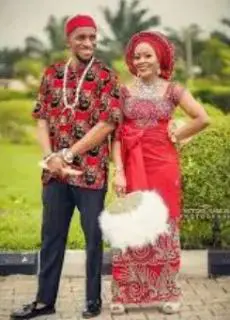 8. Wrapper & shirt for Igba traditional wedding dress.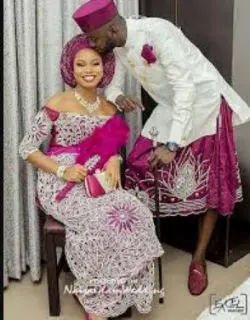 9. Traditional wedding dress for Ghanaian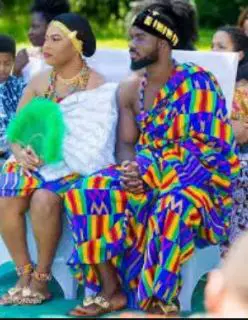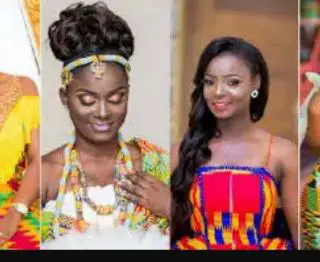 10.Tiv traditional wedding dress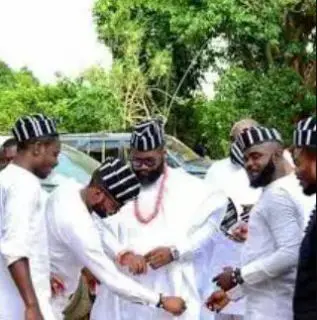 11. Akwa ibom traditional wedding dress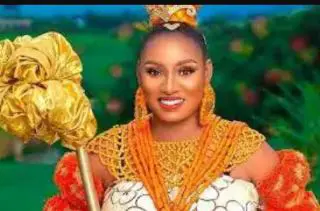 12. Benue traditional wedding dress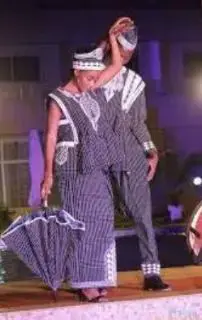 13. Ibibio traditional wedding dress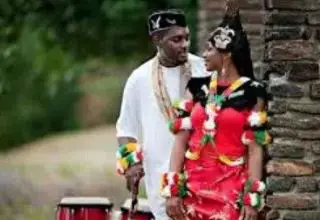 14. Traditional wedding dress for African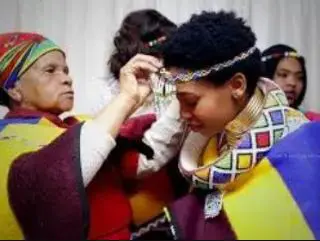 Try these wedding styles on your wedding day, and you certainly won't go wrong.